At IBD, "
Economic Optimism Plunges In Post-Vote IBD/TIPP Poll
":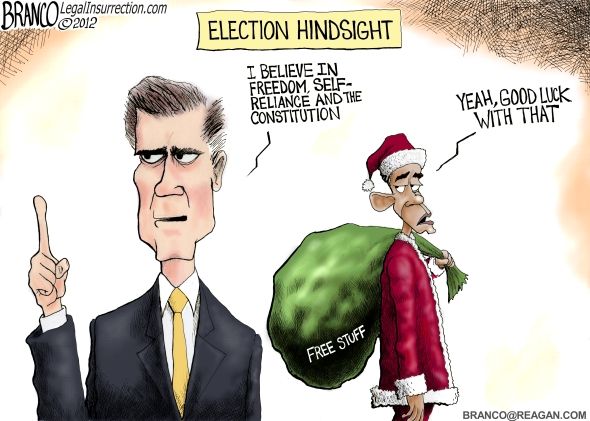 If newly re-elected President Obama was hoping to float into his second term on a cloud of renewed national optimism and bipartisan goodwill, he's likely to be disappointed.

The latest IBD/TIPP Poll shows that, at least as far as economic optimism is concerned, America very much remains a house divided.

The bellwether Economic Optimism Index for November plunged 10%, from 54 in October to 48.6 in November, as a major part of the electorate took stock of the vote's outcome and didn't like what it saw for the economy.

The partisan breakdown for optimism is telling. Not surprisingly, sentiment among Democrats improved — 4.2%, from 70.8 in October to 73.8 in November.

But Republican poll respondents, who for months were below the break-even level of 50 for optimism , expressed an even gloomier outlook over the economy's future.

The optimism index for this group plunged 41.1%, from an already-low 42.1 in October to 24.8 in November — the lowest reading ever for Republicans.

Independents, who mostly voted for GOP standard-bearer Mitt Romney, likewise saw a slump in optimism, but not nearly as much as Republicans. They fell 8.1%, from 47.9 in the October reading before the election to 44.0 in November.
And see The TaxProf Blog, "
President Obama Calls for $1.6 Trillion Tax Increase
."
Yeah, that's lift optimism. Forward!
CARTOON CREDIT
: Legal Insurrection, "
Branco Cartoon – Foundering Principles
."