Taxes are going up. Even if a deal is reached to avoid the fiscal cliff, Democrats will continue to push for more revenue to finance their never-ending spending binge, and the middle class will take the hit.
This editorial's from June 2011 but still as timely as ever. At the Wall Street Journal, "
Where the Tax Money Is
":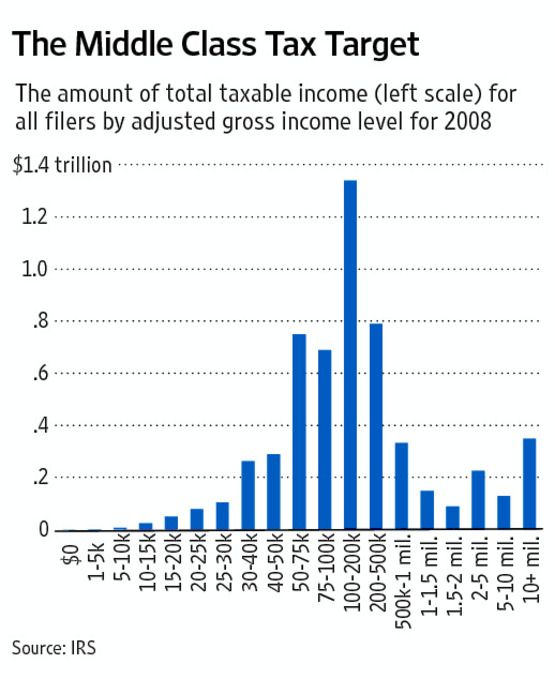 Consider the Internal Revenue Service's income tax statistics for 2008, the latest year for which data are available. The top 1% of taxpayers—those with salaries, dividends and capital gains roughly above about $380,000—paid 38% of taxes. But assume that tax policy confiscated all the taxable income of all the "millionaires and billionaires" Mr. Obama singled out. That yields merely about $938 billion, which is sand on the beach amid the $4 trillion White House budget, a $1.65 trillion deficit, and spending at 25% as a share of the economy, a post-World War II record.

Say we take it up to the top 10%, or everyone with income over $114,000, including joint filers. That's five times Mr. Obama's 2% promise. The IRS data are broken down at $100,000, yet taxing all income above that level throws up only $3.4 trillion. And remember, the top 10% already pay 69% of all total income taxes, while the top 5% pay more than all of the other 95%.

We recognize that 2008 was a bad year for the economy and thus for tax receipts, as payments by the rich fell along with their income. So let's perform the same exercise in 2005, a boom year and among the best ever for federal revenue. (Ahem, 2005 comes after the Bush tax cuts that Mr. Obama holds responsible for all the world's problems.)

In 2005 the top 5% earned over $145,000. If you took all the income of people over $200,000, it would yield about $1.89 trillion, enough revenue to cover the 2012 bill for Medicare, Medicaid and Social Security—but not the same bill in 2016, as the costs of those entitlements are expected to grow rapidly. The rich, in short, aren't nearly rich enough to finance Mr. Obama's entitlement state ambitions—even before his health-care plan kicks in.

So who else is there to tax? Well, in 2008, there was about $5.65 trillion in total taxable income from all individual taxpayers, and most of that came from middle income earners. The nearby chart shows the distribution, and the big hump in the center is where Democrats are inevitably headed for the same reason that Willie Sutton robbed banks.

This is politically risky, however, so Mr. Obama's game has always been to pretend not to increase taxes for middle class voters while looking for sneaky ways to do it.
Well, he's a sneaky f-ker, that's for sure. We've got
$268 billion
in ObamaCare taxes about to kick in, regardless of what happens with the fiscal cliff.
The left's appetite for ever-increasing revenue is insatiable.