When I stepped out this morning, the facts were still coming in on the
Newtown shooting
, and by late evening on the East Coast, it's still far from a complete picture on what happened in Connecticut. I'll be writing on this story as I have on previous massacres, hoping to add, if possible, a little insight and analysis on events. Meanwhile, here's the report at the Los Angeles Times, "
Gunman kills 20 kids, 6 adults at Connecticut elementary school
":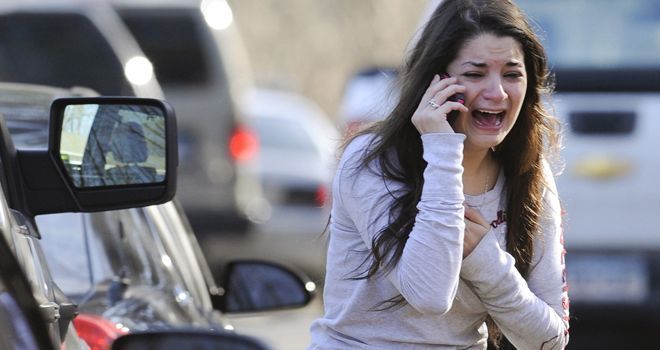 NEWTOWN, Conn. — A gunman massacred 20 children and six adults at a suburban elementary school here Friday morning before killing himself in what appeared to be the second-deadliest school shooting in U.S. history, authorities said.

Sources said Adam Lanza, 20, earlier killed his mother at home and then drove her Honda to Sandy Hook Elementary School equipped with firearms that were registered to one or both of his divorced parents.

Clad in military fatigues and carrying two semiautomatic pistols, he entered the school, argued with someone in the hallway and then opened fire on staff members and children around 9:30 a.m., a law enforcement source said. He focused his gunfire on two rooms. Children huddled in closets and corners as the carnage unfolded.

Connecticut State Police Lt. J. Paul Vance said police searched "every nook and cranny" of the kindergarten-through-fourth-grade campus after receiving a 911 call. He said 18 children and seven adults were found dead at the school — including the shooter — and two other children died at the hospital. Victims' bodies remained inside the school into the evening as relatives were gathered at a nearby fire station.

Vance did not officially identify the shooter or any of the dead. He said another adult had been killed elsewhere in Newtown, but he did not say whether it was Lanza's mother. Police are questioning Lanza's 24-year-old brother, Ryan, of Hoboken, N.J., the Associated Press reported.

It was the deadliest school shooting since 32 were murdered in the 2007 Virginia Tech rampage.

"Evil visited this community today," Gov. Dannel P. Malloy said Friday evening. "It's too early to speak of recovery."
Continue reading
.
Also at the New York Times, "
No Motive Known as Trail of 28 Dead Is Left in Connecticut
." And at the Wall Street Journal, "
Dozens Killed in Conn. School Shooting
."