At the Jerusalem Post, "
Ground invasion?
":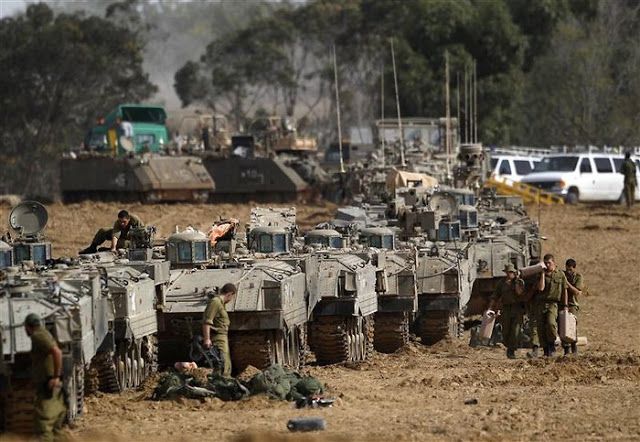 As Israel enters the sixth day of Operation Pillar of Defense, Hamas and other terrorist organizations operating in the Gaza Strip continue their assaults on civilian centers.

Southern cities such as Beersheba, Ashdod and Ashkelon (just to name the largest) have been bombarded constantly since the start of the operation on Wednesday. Out of an apparent desire by Hamas and the Iran-aligned Islamic Jihad and other Salafi and jihadi terrorists to escalate the conflict, the scope of fire has expanded to the Tel Aviv and Jerusalem areas.

Gazans have fired more than 500 rockets and mortar shells at Israeli communities since the start of the IDF offensive. Attempts by Egypt to mediate a cease-fire that would bring about long-term quiet are under way.

At the same time, Israeli leaders are seriously considering implementation of the next potential stage in the operation – a ground invasion.

Over the weekend, the cabinet authorized the call-up of up to 75,000 reservists for military service. Defense Ministry director-general Udi Shani noted that there has been a nearly 100 percent positive response.

In pondering a ground operation, our leaders are no doubt weighing the pros and cons. The five Iron Dome batteries deployed since the beginning of the present round of escalation – which have so far shot down about 250 potentially deadly rockets at almost a 90 percent success rate – provide our leaders with the precious breathing room to make a balanced, logical decision regarding the efficacy of a ground invasion.

The most obvious outcome of a major ground incursion would be a spike in the number of noncombatant casualties on the Palestinian side.

In Operation Cast Lead, for instance, 1,166 Gazans were killed, 709 of them combatants, according to IDF figures. This is about one civilian for every three combatants.

In contrast, according to a 2001 study by the International Committee of the Red Cross, there have been on average 10 civilian deaths for every soldier killed in wars fought since the mid-20th century.

During the 1999 Kosovo War, NATO forces killed four civilians for every Serbian soldier. Clearly, even the most moral armies make mistakes, particularly in dense urban areas.

Although the international community has generally been supportive of Israel's right to defend itself, it has in the past shown little understanding of its need to complete its mission. The purpose of the current operation is to halt all rocket and mortar fire from the Gaza Strip.

Prime Minister Binyamin Netanyahu called this the "Goldstone threat," after the so-called "fact-finding" mission appointed by the UN Human Rights Council and headed by Richard Goldstone. In the event of a ground invasion, we must, therefore, be prepared for a new wave of delegitimization focused against Israel, no matter how unjustified and unsubstantiated.
Keep reading at that top link.
And see Gilad Sharon, "
A decisive conclusion is necessary
."

PHOTO
: Israeli troops near the Gaza border, c/o
Elder of Ziyon
.